In the Atelier of Jean Paul Gaultier
A couture collection is the result of thousands of hours of minute handwork. Six days before Jean Paul Gaultier's runway presentation, it's all hands on board in his atelier. The result will be a delight of detailed embroideries on tulle, silk and fur.
Thursday, June 29, 3pm
Throughout the workrooms of Jean Paul Gaultier's in-house atelier, there is an air of the 1920s. On the fifth floor, in a cramped workroom, several petites mains or 'little hands' ‑ as the French called their couture artisans ‑ are threading hundreds of very small black beads onto long fringes, that will decorate some dresses or will also be used as embroideries. Others are painstakingly sewing single transparent beads on top of small golden sequins, themselves sewn over diamond-shaped leather pieces in python and crocodile on tulle. The geometric pattern on what is to be a fluid flapper dress is already taking shape, but the petites mains still have many hours of sewing ahead of them.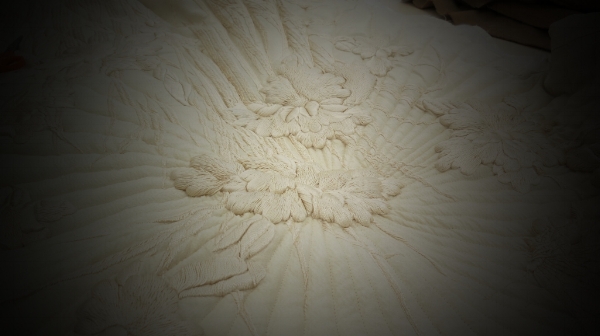 A floor below, where the bulk of the activity is taking place, a dramatic floor-length opera coat using panels from a kimono is already constructed on a mannequin, while a team of seamstresses are weaving their magic to create elaborate embroideries on a body-fitting catsuit.
Fresh from attending the prestigious Cannes Film Festival as a juror, Jean Paul Gaultier found some inspiration in Sylvie Verheyde's cinematic adaptation of nineteenth century dandy and poet Alfred de Musset's Confession of a Child of the Century and its star, Pete Doherty. "He plays a decadent dandy, but with a lot of charm and seduction," the couturier told reporters backstage. "When I came out of the film, I just said 'He is going to be my collection.'"
While top hats, corsets and tailcoats executed in crocodile hints at this elegant dandyism of the late 19th century, Gaultier also embraces women's "liberation" from corsets and the exuberant spirit of the 1920s with richly embroidered flapper dresses and extravagant furs. "A dandyish woman, conquering but seductive," was how the designer summed up the look.
First published in Couture by Designaré Vol 3 (September 2012)